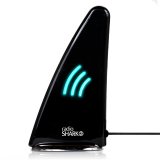 Hisaaki Shibata took Michael Rolig's shark.c -which I use to control my radioSHARK from Linux- made it work with the new radioSHARK 2 and released the new shark2.c (local mirror).
With this development owners of the new radioSHARK 2 can control their shiny new device under Linux to change stations and change its lighting besides other neat tricks like live Internet streaming with icecast2 and darkice as I've written before.
I haven't been able to lay my hands on a radioSHARK 2 but I might do it soon. I hope that griffin has finally managed to solve the annoying bugs in the software that made the original radioSHARK completely unusable under Windows, but keep in mind that Michael and Hisaaki's work has made the enclosed software completely irrelevant to Linux users, opening a new market for a fine hardware product.