Welcome, fellow ITESM student.
While studying my MBA at the ITESM (that's "Instituto Tecnológico y de Estudios Superiores de Monterrey", Tec de Monterrey, or MIT for spanish-impaired visitors) I had a hard time finding clean, good-resolution, usable logos for presentations and written reports. Here are a few I have managed to find through the past couple of decades.
I hope you find this artwork useful in your own coursework. If you do, please let me know.

ITESM Logo
I believe this ITESM logo came from a marketing PDF somewhere on the net, which I managed to find and clean up for the umptenth time and finally had the good sense to archive it for later use. I used this to build the Tec de Monterrey logo immediately below.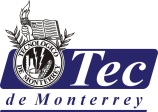 "Tec de Monterrey" Logo
Please note that this logo has been deprecated. See below for an explanation.

"Tecnológico de Monterrey" Logo, raster-only version
This logo comes from the page of CARE at the Monterrey Campus. I was not able to find vector artwork for this logo and I just was not able to identify the typeface in it — my best guess was that the typeface is a manually tweaked variant of Dialog Semi-Bold, but I've been told that someone built it from scratch.
Happily, this is a moot point now because John Dauphinais traced the new version below, so I'll leave this one around for a while for archaeological purposes, but you'd be better off using his.

"Tecnológico de Monterrey" Logo, raster and vector artwork
John Dauphinais has done an excellent work tracing this version by hand, and he is kindly sharing his work with the rest of us.
Usage guide
In the past ITESM published some basic guidelines for the use of the logo as a PDF document (edit: dead link as of 20110919). One of the most notable changes is that the "Tec de Monterrey" logo has been officially discontinued in favor of the "Tecnológico de Monterrey" logo as mentioned above.
More recently, Raul reports that ITESM has published an online policy guide for usage of logos and trademarks including a rather impressive array of guides in PDF form.
Colors
Extraoficially, I understand that the official color, known as "Azul Tec" or "Azul Reflex", is actually PMS Reflex Blue:
Azul Tec
CMYK: 100C 90M 30Y 8K
RGB: 0R 32G 159B
RGBHEX: #003399
Edit 20110919: According to the aforementioned policy guide, the institutional color is actually PMS 281, but then again, the official definition specifies 104 percent Blue, which I'm sure is some graphic designer's idea of a joke.
Azul Tec Oficial
CMYK: 100C 72M 0Y 32K
RGB: 0R 40G 104B (sic)
RGBHEX: #003366