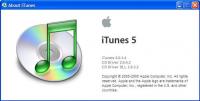 I recently upgraded iTunes to 5.0 on Magda's laptop and it decided to start speaking to me in Spanish. In my Thinkpad with Windows XP in english iTunes was still in english.
Magda's laptop came pre-installed with Windows XP in spanish, but I have never had a problem installing an english version of any kind of software in it. So far, every iTunes version had asked for an installation language during setup, and stuck with that language forever. iTunes 5.0 is different: no matter what language you use during setup, it will move on to the system locale whenever you run it. I bet that somebody in Cupertino believes that this is a "feature", but actually iTunes is ignoring an explicit user setting, a usability do-not that comes as a surprise from the UI gurus at Apple.
Just to state a fact, I'm no Malinche. I write and speak an above-average Spanish, and I do love my country and its language. But I like my english software in English, and I do not have to endure the work of some underpaid english-to-spanish translator that can't speak either language right nor understand their respective subtleties. Besides that, the iTunes ES translation is not for Spanish but rather for Castellano, and some strings are somewhat annoying. "Party Shuffle" sounds nice. It has a festive tone to it. When iTunes is in Party Shuffle mode my subconscious thinks I'm at a party, even if it's 2am in the morning with two deadlines to meet early in the day and a senior programmer on vacation. In comparison "Sesión aleatoria" -random session- sounds just plain boring.
Today I upgraded to 5.0.1.4 half expecting this bug to be gone, but surprisingly it is alive and well and sends best wishes to everyone back home.
A quick google search got back an interesting result on Playlist Magazine's forums: just close iTunes, go to its installation directory under "Program Files", find every directory named <offending language code>.lproj (for me that was es.lproj) under iTunes.Resources, iTunesHelper.Resources and iTunesMiniPlayer.Resources and nuke them out of existence. The one under iTunesHelper.Resources might complain about a DLL being in use. Just move that DLL to some other place and delete it after a reboot. The next time you run iTunes it will talk to you in English.