Index of /java/fire
I lost this to the sands of time - and found it again at http://www.1archive.com/java/fire/ ... Thanks guys!
If you have a half-decent browser, it will probably refuse to show the embedded applet in the fire.html page, so use this command instead:
$ appletviewer http://javier.rodriguez.org.mx/java/fire/fire.html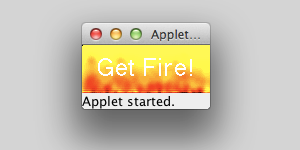 Happy Birthday, Java!